Are you a runner? Are you preparing for a marathon, or maybe you just want to start running? You need a perfect pair of running shoes that suit you. There are several factors to consider, such as balance, the weight of the shoes, how it affects your gait, its level of comfortability, durability, the traction it provides, the running surface, etc.
With a wide range of brands all offering a myriad of models with different features, often you're faced with the question as to which pair is the best running shoe. Simply put, the answer depends on you. The kind of running shoes suitable for you depends on what exactly you want from the shoes.
Health plays a role when selecting shoes too. For instance, if you have bad knees, you will opt for the best running shoes for bad knees. Burning all those calories and having excellent cardiovascular health is outstanding and all, just make sure it's not at the detriment of your feet, hence the appropriate running shoes. Some shoes are suitable for runners with overpronation too. The aesthetics also play a role, and the brand you favor.
The Best Running Shoes
1
ASICS Men's GEL-KAYANO 25 Running Shoe
The ASICS men's GEL-KAYANO 25 is one of the best running shoes for men you will find. It's designed to provide stability and comfort. This running shoe is quite bulky and weighs just 11.8 ounces makes use of the FLYTEFOAM technology to provide extra bounce and resist compression, which makes it suitable for long runs. With the GEL-KAYANO 25, you can zip for long distances without ever being weighed down or subjecting your feet to undue stress.
The GEL-KAYANO 25 features the premium Ortholite X-40 Sockliner which provides it with excellent moisture management and ensures its breathability, so you never have to worry about your feet getting sweaty. Its design, combined with materials, ensures proper pressure distribution so as not to subject your feet to unnecessary tension.
The midsole cushions are FLUIDRIDE, which helps maintains the natural foot movement when running. The shoes weigh just 11.85 ounces with a heel to toe drop of 10mm, with a rubber sole this sleek running shoe ensures stability and comes with an internal elastic sleeve to ensure it fits snuggly around your feet guaranteeing comfort. ASICS FluidFit upper technology utilizes a multidirectional stretch mesh and stretch reinforcements, which ensure the shoes fit snugly by adjusting to each foot.
To ensure stability and support required of running shoes, the ASICS men's GEL-KAYANO 25 running shoe has the Dynamic DuoMax Support System, which, asides enhancing support, provides increased platform support while keeping the men's running shoe comfortable.
ASICS designed the GEL-KAYANO 25 for runners with overpronation, flat feet, and low arches. It has the ASICS Impact Guidance System (I.G.S) technology, which enforces the natural gait of the foot when running. Pronation is when the foot lands outside the heels and rolls inwards, thereby transferring weight to the inner edge instead of the ball of the foot. It has a heel clutching system, which also provides support through an exoskeletal heel.
Key Features:
Ortholite X-40 Sockliner
Dynamic DuoMax Support System
Guidance Trusstic System Technology
Specification:
Brand: ASICS
Model: GEL-KAYANO 25
Color: Black/Glacier
Gender: Male
Pros
It's responsive
Stability
Cushioned heel
2
Nike ZoomX Vaporfly Next %
The Nike ZoomX Vaporfly Next % is one of the fastest running shoes out there. It features the most responsive midsole foam from Nike with a carbon fiber plate. The Nike ZoomX Vaporfly Next % is a premium running shoe that's bound to give you an edge with very high energy return levels. It is a highly efficient running shoe, and you won't tire quickly while running in them.
The Nike ZoomX Vaporfly Next % uses Pebax for the base of the ZoomX foam. Pebax is a material that's originally used in aerospace. It's a low density, flexible, lighter and more impact resistant material when compared to other thermoplastic options. There's a carbon fibre plate inside the foam which distributes with each stride, it prevents loss of energy in toe bends. The ZoomX foam technology is Nike's most energy efficient cushioning.
Nike gave the running shoe a VaporWeave upper, a very thin and woven lightweight mesh which greatly enhances breathability and absorbs less moisture. The lacing has an offset pattern to displace pressure while maintaining a perfect fit. The outsole has high abrasion rubber in the heels for durability. The traction pattern is specially made to enhance grip and ensure a smooth ride
The heel to toe drop is 8mm, and a medium to high arch height. The Nike ZoomX Vaporfly Next % has a wide toe area so your forefoot muscles can be utilized. It has lengthwise flex grooves on the outsoles which leads to greater multi surface traction in different weather conditions.
The Nike ZoomX Vaporfly Next % is made for racing, for maximum speed and energy output. It's not a running shoe you'll just wear to train. This is one of the best premium running shoes you'll find, and it comes in both male and female variants.
Key Features:
Full length lightweight carbon fibre plate
ZoomX foam
VaporWeave mesh
Lengthwise flex grooves on outsole enhance multi-surface traction.
Specification:
Brand: Nike
Model: ZoomX Vaporfly NEXT%
Color: Green/Guava
Gender: Unisex
Pros
Carbon fibre plate
Extra ZoomX cushioning foam
Lightweight upper
Cons
It's a bit expensive
Not an everyday training shoe
The Gel Nimbus 22 is a running shoe with both men and women variants. It's a neutral running shoe that offers a lot of flexibility. It makes use of dual density Flytefoam throughout the midsole length and comes with gel cushioning, which protects your foot. The midsole is dual density with an inverted stack and provides you with a smooth ride. The midsole also has its edges flared to create a wide support base.
The outsole is made from carbon rubber, which is at the rear, while underneath the forefoot is blown rubber. The ASICS Gel Nimbus 22 is a very sporty and breathable running shoe owning to the lightweight upper material. Included in the upper asides the engineered mesh are fused overlays.
The Gel Nimbus 22 is a heavy running shoe weighing 10.9 oz. and its best suited to roads, flat, cinder trail. The dual density Flytefoam provides cushioning required for long runs at moderate speeds.
Key Features:
Weighs only 10.9 oz
Heavy duty running shoe
Specification:
Brand: ASICS
Model: Gel Nimbus 22
Color: Black/Black
Gender: Male and Female
Pros
Smooth and stable ride
Very breathable
Great cushioning
Cons
Heavy
A bit expensive for its range
4
ASICS Gel-Venture 6 Running Shoe
Another great running shoe from ASICS is the GEL-VENTURE 6. This model is designed specifically for rugged terrains with the outsole made from high abrasion rubber which ensures durability, so if you'll be running on rugged terrains this is the shoe for you. It features the Rearfoot GEL cushioning, with the midsole made of EVA Foam which provides you with enough cushioning while minimizing energy loss, so when you run with the Gel-Venture 6 you're guaranteed not to get exhausted quickly.
The shoe comes with reversed lugs. Reversed lugs improves shoes performance through grip enhancements, whether you're running on wet ground or you're making sharp turns stability and grip is assured.
The running shoe is lightweight with a stylish design. It has a protective shield to protect your toes. The upper section of the Gel-Venture 6 is made of synthetic mesh made from top quality and durable materials which allows for easy flexing and proper ventilation.
This is a running shoe made for under pronation and neutral pronation, with a heel strike pattern. The ASICS Gel-Venture 6 comes in standard widths, making it a great option for medium sized foot runners.it also has removable sock liners that can be swapped out for custom built ones. This is one the best running shoes for women and men with a neutral gait. It ensures excellent performance on any terrain. The heel to toe drop is 10mm.
Key Features:
REARFOOT GEL® TECHNOLOGY cushioning system
Trail specific outsole
AHAR® outsole
Removable sockliner
Specification:
Brand: ASICS
Model: GEL-Venture 6
Color: Black/Pixel Pink
Gender: Male and Female
Pros
Durability
Heel collar support
Comfort during long distance runs
5
Salomon Women's XR Mission Running Shoe
Are you a woman who needs a great pair of running shoes? The Salomon Women's XR Mission Running Shoe is one of the best running shoes for women. It's a trail running shoe that can be used for road runs too.
The shoe comes with the chevron Contragrip traction, which provide you with a great grip for running on uneven and slippery ground.
The upper mesh is an abrasion resistant nylon which ensures breathability, thereby keeping the feet cool and less sweaty. It also features an asymmetric synthetic leather overlays giving the shoe a precise fit. The Quicklace system which a single pull lacing system, eliminating the need to always lace up. The lacing system has friction free eyelets, and a pocket to tuck away the laces.
The Salomon Women's XR Mission running shoe features a very durable outsole made of the combination of Contragrip LT and Contragrip HA for traction, and an EVA insole cushioning. The cushioning absorbs a lot of impact, while providing support for the underfoot and arch. In order to ensure push-off efficiency and ensure better heel to toe transitions, the shoe features an OS Tendon thermoplastic urethane frame. The heel to toe drop is 11mm, with polyester lining, a rock plate.
Key Features:
Contragrip LT and Contragrip HA outsole
OS Tendon thermoplastic urethane frame
EVA cushioning
Specification:
Brand: Salomon
Model: XR Mission
Color: Blue/Very Purple/Green
Gender: Female
Pros
Quicklace system
Precise fit
Durable outsoles
The New Balance 990v4 is a men's running shoe which is an upgrade to older models. The shoe is suited to mild trails and off-road trails.
The blown rubber outsole gives the shoe a softer cushioning than you would normally find on other shoes. The blown rubber also gives the running shoe maximum stability, and traction.
The midsole is the ENCAP midsole technology which uses ACTEVA LITE foam for cushioning. To help correct overpronation, the ACTEVA LITE foam is coupled with a polyurethane rim. To ensure durability, the midsole makes use of ethyl vinyl acetate (EVA). The upper section of the shoe is a combination of pigskin leather and a breathable mesh to ensure durability without compromising breathability. It also has a shoelace keeper
The Balance 990v4 offers protection for your feet with a 12mm heel to toe drop while providing arch support and stability. This running shoe is quite heavy weighing 13.6 oz. but the support and stability it provides makes up for that.
Key Features:
Dual density collar foam
ENCAP midsole
EVA core
Specification:
Brand: New Balance
Model: 990v4
Color: Black with Silver
Gender: Male
Pros
High stability
Durability
Suitable for mild and overpronation
Cons
Expensive
Lacking in flexibility
7
Brooks Adrenaline GTS 20
This is a stability shoe from Brooks. The upper is an engineered mesh softer than what was found on its predecessor the Adrenaline GTS 19, with fused urethane overlays. The midsole is a compression moulded EVA with raised sidewalls which adds to its stability, and a DNA loft crash pad.
The outsole of the Adrenaline GTS 20 is made of carbon rubber underneath the heels, while under the forefoot is a soft blown rubber. The heel collar has two linings and features the Achilles dip design found on the older Adrenalin 14; it restricts movement in the heels without being too tight. The Brooks Adrenaline GTS 20 is not really built for speed. It has an integrated GuideRails support system; this holistic support system makes it ideal for bad knees.
The Adrenaline GTS 20 features a triple density midsole although it doesn't have a medial post as you would expect from a stability shoe. The main midsole is softer than the DNA Loft crash pad. The midsole drop is 12mm which makes it suitable for runners who strike with their rear foot. The insole is removable, so you can swap it out for a more premium one.
Made specifically for runners that need support and flexibility, providing support for both mild and overpronation. It has a low-key design.
The Brooks Adrenaline GTS 20 is great for overpronation by providing stability, support and cushioning. It can be used on road runs, gyms, and cross training. The Adrenaline GTS 20 is a durable shoe with an average mileage of 400 miles.
The Brooks Adrenaline GTS 20 is weighing 10.6 oz. is on the light side of stability shoes, making it suitable for everyday runs.
Key Features:
Compression moulded EVA midsole
GuideRails support system
Specification:
Brand: Brooks
Model: Adrenaline GTS 20
Color: Grey/Blue/Navy; Black; Blue; Red; Purple; White
Gender: Male and Female
The Saucony Guide 13 is the thirteenth iteration of the Saucony Guide. It's a daily trainer aimed at runners who overpronate. As the name "Guide" suggests, it guides your running foot to comply with a more neutral gait.
Saucony went traditional with the upper, giving the Guide 13 a regular lacing with no inner fit sleeve. The upper has an ample tongue padding. The mesh is an engineered mesh that cuts down on the breathability of the Guide 13. The upper uses the FormFit technology which adjusts the feet to the shoes and doesn't alter natural feet movement.
The Guide 13 has a smooth ride, and flexibility owed to the crystal rubber outsole which is said to be more durable than carbon rubber soles. The crystal rubber outsole also cuts the thickness down, making the outsole relatively thinner than previous iterations.
The midsole is made from a material called PWRRUN which is a developed from EVA and TPU. It has three layers of cushioning and makes use of a responsive L shaped TPU cradle for support which prevents pronation. The shoe is suitable for runners with mild pronation, and neutral runners.
Key Features:
PWRRUN midsole
FormFit technology
TPU frame
Specification:
Brand: Saucony
Model: Guide 13
Color: Black; Blue/Silver; Grey/Yellow
Gender: Male and Female
Pros
Lightweight
Has great grip
Supportive ride
9
Mizuno Women's Wave Inspire 15
The Mizuno Wave Inspire 15 is a stability running shoe for women.
The midsole makes use of the Wave plate technology which disperses energy from impact to a wider area to ensure smooth and stable front ride. It supports the arch and keeps you cantered. The midsoles are designed for runners with overpronation. The Wave plate also facilitates the heel to toe transition in an optimized manner. The midsole combines the U4ic foam which delivers optimal shock attenuation, has a superior ride, well cushioned, responsive and resilient and the U4icX foam which is a lighter and more cushioned version of the U4ic.
The upper is an engineered mesh with provides breathability and durability. It uses Dynamotion Fit which makes your runs natural by mimic your feet's motion. The toe box is spacious and would accommodate socks which you'll want to wear during cold weather.
The outsole of the Mizuno Wave Inspire 15 is made of carbon rubber which makes it durable and sturdy with a nice shock absorption capacity with enough grip for most terrains.
The drop of the Mizuno Wave Inspire 15 is 12mm which makes it quite high and it weighs 8.7 oz. This is one of the best running shoes for women, there's a variant available for men too.
Key Features:
U4IC foam
Dynamotion Fit
Carbon rubber outsole
Specification:
Brand: Mizuno
Model: Wave Inspire 15
Color: Blue
Gender: Female and Male
Pros
Wave plate provides great support and stability
Very comfortable
Versatile ride
The Salomon Speedcross 5 is a shoe made for trail running. It provides the protection you'll need on rough terrains, and stability.
The upper of the Salomon Speedcross 5 has an anti-debris mesh that prevents debris from entering while remaining very breathable.
The midsole Salomon Speedcross 5 improved on the midsoles of its predecessors with enhanced cushioning in the forefoot and comes with lugs. Salomon Speedcross 5 utilizes a compound called the EnergyCell+ which provides a high energy return and cushioning. It also has the Orthollite sockliner.
The Speedcross 5 is remarkably durable with outsoles that have improved traction compared to older Speedcross, it has a wider spaced lug pattern with sharp teeth made from Contragrip TA.
The shoe has a heel to toe drop of 10mm and weighs 9.9 oz. for women and 11.3 oz. for the men.
Key Features:
EnergyCell+ cushioning
Contragrip TA lugs
Ortholite sockliner
Specification:
Brand: Salomon
Model: Speedcross 5
Color: Stormy Weather/Sargasso
Gender: Male and Female
Pros
Very great traction
Fit
Durability
Running Shoes Buyer's Guide
Running is an exercise that anyone can engage in; all you need are two legs and running gear. Running a few hours every week improves your cardiovascular health. After each run, you get a refreshing feeling and a sense of wellness due to a release of endorphins.
One of the most essential, and arguably the most vital running gear, is the running shoe. Running shoes can make running either a pleasant experience or unnecessarily unpleasant. Your feet are the most important things when running and should be treated as such. You need to get a pair of Asics running shoes or one of the above ranked ones that not only protect your feet but ensures your overall comfort and hitch-free running experience.
You may have a couple of questions regarding which pair to get, so we've compiled a couple of questions you may have on your mind, and we answered them for you.
What is the difference between cushioned, stability, and motion control shoes?
Running shoes are designed in various ways to cater for different types of feet. Running shoes either come as stability, cushioned, or motion-controlled shoes. Each of these targets different people with peculiarities.
Cushioned running shoes, as the name suggests, have cushioning to help absorb shock. Most running shoes have some form of cushioning. Cushioning ranges from minimal and lightweight design to super cushioning. Depending on your needs, you opt for the one suitable.
Stability running shoes are for people with a natural foot arch, and to deal with mild pronation. Most running shoes are designed as stability shoes. Motion-control shoes, on the other hand, are designed for people with flat foot or people with feet that overpronate to provide stability and reduce pronation and potential injury. Motion control running shoes are usually heavy and rigid.
Which shoes are best for running?
You need first to understand that there's no golden shoe out there that magically fits everyone, or suitable for every runner's needs. However, some shoes tailor to individual needs. Secondly, running shoes are different from sneakers or basketball shoes, although they look similar. They are designed specifically for running and provides shock absorption and protection against injury.
Choosing a running shoe can be quite confusing with the various types available with a myriad of features.  Maybe you're just a typical runner who just wants to keep fit, or you take running more seriously, or maybe you're a marathoner.  You would need a pair of running shoes that are suitable for you to make your runs smooth while providing the appropriate support and protection for your foot.
There are different types of running shoes, each made with different users in mind. To find which of the category of users you fall under, you need to get your gait analyzed. You'll find out if you need shoes that'll help if you overpronate, or maybe you have neutral pronation, or maybe you need shoes with cushioning, etc. Also, get the accurate fit of your running shoes to prevent you from causing damage to your feet, damage to your lower back, and prevent chaffing.
Depending on the type of running you'll be doing, there are different types of running shoes. You have running shoes designed for everyday running and are very durable. There are lightweight shoes for races and fast workouts; they're usually less durable, and the trail running shoes made for running or hiking dirt trails.
The very first thing you need to consider when getting running shoes is how well it fits. Feet sizes are not the same throughout the day, in the morning, your feet tend to be smaller and swells in volume and width as the day progresses, so the best time to check if shoes fit is in the afternoon. A well fitted running shoe would have a finger width gap between your longest toe and the front of the shoe. You should not have a squeezing feeling subjecting your foot to undue pressure, and it must not slip or rub.
You should consider the terrain on which you would be running. Trail running requires sturdy shoes with enough protection. Trail running shoes have very sturdy soles and are designed all-around not to wear quickly similar to parkour shoes; they are for harsh terrains and, as such, should be sturdy enough. You can get lightweight road running shoes if you're going to be running on road pavements, if you don't have a particular route you follow, you can get different pairs to use for each terrain or a hybrid that can handle both.
The suitable running shoes for you must provide stability and support for you. The level of pronation in your feet and arch shape points out the support you need from your shoes. People with a neutral gait can opt for shoes with minimal cushioning, flexibility, and little if any support, this is because they don't need any extra stability. Stability shoes are for those with pronation. They help stabilize gaits by reducing the way your feet swing from side to side. The midsole has footbridges of foam, which help spread impact and reduces how much your foot rolls. There are different types of stability shoes, and you'll need to have your gait analyzed to get the appropriate stabilizing shoes.
Consider the fabric of the running shoes. Waterproof running shoes are suitable for wet terrains and are heavier than normal shoes due to an added membrane on the upper. Waterproof shoes tend to get hot if you wear them in warm conditions. You also want to take note of the drop and heel to toe cushion. The drop is the difference between height at the heel and the forefoot. Drop usually ranges from 5mm to 12mm.
Bad knees are bad news for a runner or anybody. It interferes with running, causing constant pain and discomfort that can get quite frustrating. Knee pain has several causes, such as overtraining, torn ligaments, your legs not being properly aligned, arthritis, etc.
Do you have a bad knee, and you think you can't run? Well, you can run even with bad knees with the right pair of running shoes. You should see a doctor first if you have any knee or leg problems because knee problems can become worse through activities such as running by putting repetitive stress on the knees.
If you have a bad knee, you need to buy a pair of running shoes that'll help you run without worsening your knee as you run. A wrong pair of running shoes can cause knee pains or even worsen your bad knee. Even worn-out running shoes can worsen bad knees and even affect you back, feet and hip, so make sure to replace those old ones with suitable running shoes.
When choosing running shoes for bad knees, you would want shoes that'll provide maximum comfort, support, and cushioning.  Cushioning protects your knee joints from microdamage. Running shoes with orthotic insoles are a great type of running shoes for bad knees, too, because they provide support for the foot arch while serving as an extra layer of cushioning. If you are a nurse, you should also aim to go for lightweight shoes and make sure the shoes fit perfectly.
A popular myth is that running ruins your knees, this is not true as studies have shown. A wrong pair of running shoes can, however, further deteriorate and worsen your knee. Asides getting the proper running shoes for bad knees, there are precautions to take when running with a bad knee. Don't strike with your heel because it subjects your knees to disproportionate impact. Try as much as possible to run on soft, stable surfaces. Do not push yourself too hard; don't go overboard with your runs cause the longer you run, the more stress you put on your knees.
Be sure to see your doctor and get advice on how to progress as a runner with a bad knee; they'll inform you of what needs to be done and necessary precautions.
Are cushioned shoes better for running?
It is expected that your running Shoe would have some form of cushioning. However, there is a study that suggests that running shoes with cushioned shoes may lead to more impact on your foot and increases leg stiffness due to the knees bending less and the legs not compressing as they should or normally would. However, Dr. Michael J. Joyner explains that there's no real evidence that suggests that a particular type of Shoe makes users prone to injuries. He said that the kind of running shoes might not matter as your neuromuscular system would adjust.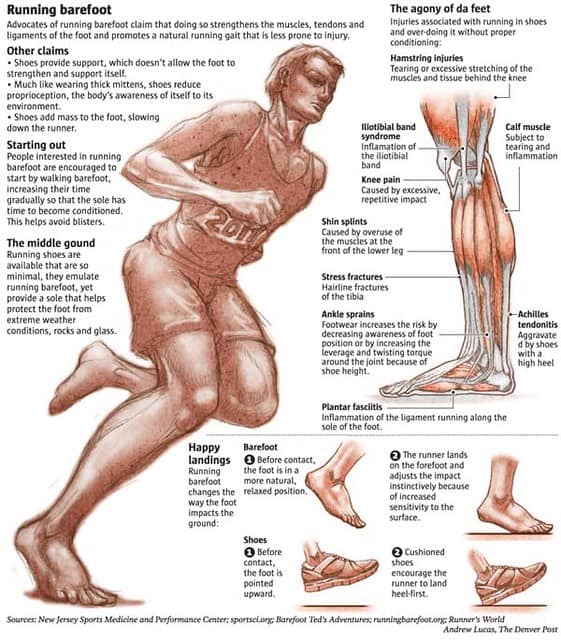 Whether or not cushioning is needed in running shoes is a timeless debate between two factions who share opposing views. Those in favor of cushioning say it leads to lesser impact. While those who argue that cushioning is not needed argue that humans evolved to run barefoot, and as such, our legs can handle the impact from running. The consensus is that too little cushioning will lead to higher levels of impact.
What kind of running shoes do marathon runners wear?
Running a marathon, you'll need a pair of running shoes that provide maximum comfort and cushion. The shoes need to be durable, firm, provides balance, and does not weigh too much.
What are the most comfortable running shoes?
Undoubtedly, comfort is an essential factor to consider when choosing running shoes. However, the level of comfort or discomfort you feel depends on some factors such as the surface on which you would be running and the distance you expect to cover. For marathoners, the most comfortable shoes would be those with enough cushioning. Also, if you're running on the pavement, you need well-cushioned shoes. All these seem to point towards cushioning as the significant factor that adds to comfort. However, cushioning isn't all that matters; your overall gear does matter too. When running, it's not advised to wear cotton socks due to the ability of cotton to retain moisture.
For maximum comfort, your Shoe must be a perfect fit, be flexible, and provide you with support, stability, and grip without posing any risk to your legs.
A tip to keep your shoes comfortable is to get some orthotic insoles to replace the ones that come with the shoes. As you run, overtime the insoles would wear leaving your feet with less cushioning, which will make running a bit uncomfortable, so investing a couple of insoles is a great idea and worth it in the long run.
How long do running shoes last?
Running shoes are built to be durable, given the nature of use. They are designed to be able to handle the miles upon miles of beating over different types of surfaces.
Depending on usage, your running shoes should last anywhere between 300 and 500 miles, which translates to between four and six months if you run 20 miles every week. You should note that this may not be the case always, although these values are based on the time it takes for the materials to deteriorate. Your running shoe may last longer or shorter depending on the use and durability and type of material used. There are some signs that your running shoes are beginning to wear out. The obvious one is worn soles. Also, as the cushioning starts to age, your shoes will feel flat to your feet.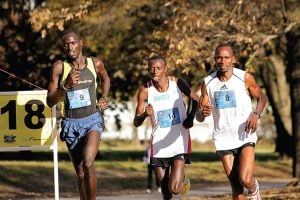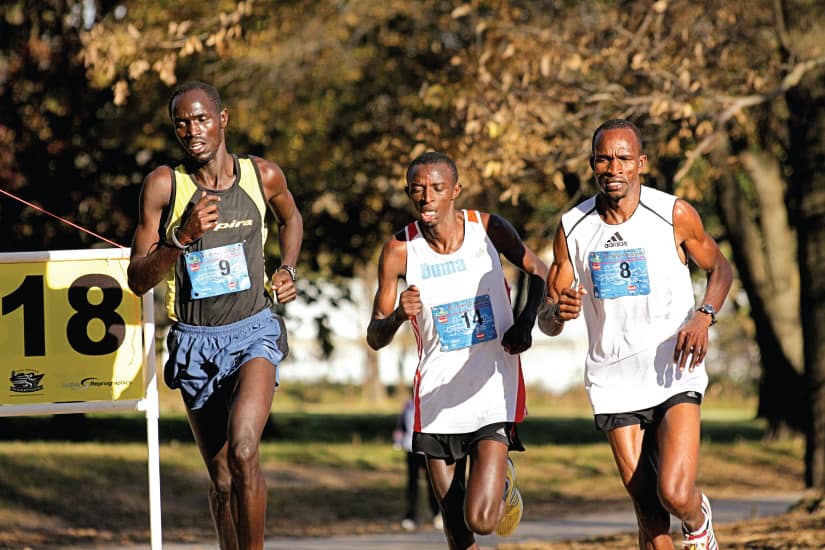 Your shoes will not last forever, but nobody wants a pair of shoes that'll just last a few runs. Take note that worn-out shoes will leave your feet susceptible to damage, so when it's time to let go and get a new pair, do so.
If you want your shoes to last a little bit longer, you can get an extra identical pair of running shoes and alternate between them for each run. Rotating them will ensure they don't wear out as fast as they would individually.  Another tip is to keep your shoes clean. Wash your running shoes regularly, and ensure you follow the washing rules the manufacturer provides. When you're done with the shoes, make sure you store them appropriately.
Conclusion
There are a lot of brands out there offering different types of shoes with features with hefty price tags, but you will be pleased to know that your budget-friendly pair of running shoes are as functional as their expensive counterparts. However, if you have the cash for it, you can opt for the more premium shoes. Just keep in mind that your shoes must be suitable for your needs.
Watch out for comfort and stability, choose the appropriate footwear for the terrain on which you would be running and ensure your shoes are the right fit. Remember, if you have any health issues concerns, always see your doctor and overstrain yourself when you start running, start small and build on it.